Exhibition of the week
Bridget Riley
This retrospective of one of modern Britain's most brilliant and original artists is guaranteed to fool your eyes and stretch your mind.
• Scottish National Gallery, Edinburgh, 19 June–22 September. Hayward Gallery, London, 22 October–26 January.
Also showing
Get Up Stand Up Now
Anthea Hamilton, Ajamu, Betye Saar, David Hammons, Zadie Smith and A Guy Called Gerald are among the stars in this survey of 50 years of black art and culture.
• Somerset House, London, until 15 September.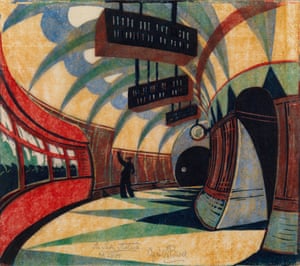 Cutting Edge: Modernist British Printmaking
Sybil Andrews, Lill Tschudi, Cyril Power and Leonard Beaumont feature in a survey of the lost 1930s art of linocut.
• Dulwich Picture Gallery, London, 19 June–8 September.
Leonardo da Vinci
The notebooks of Leonardo da Vinci are opened for your inspection. Anyone who is tired of Leonardo is tired of art … and science.
• British Library, London, until 8 September.
As Seen on Screen
Fiona Banner and Sam Taylor-Johnson are among the artists taking on cinema in this survey of a relationship that started when Dalí and Buñuel filmed a razor slashing an eyeball.
• Walker Art Gallery, Liverpool, until 18 August.
Masterpiece of the week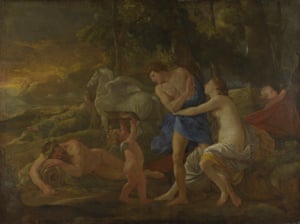 Cephalus and Aurora by Nicolas Poussin, circa 1630
Cupid holds up a portrait of Cephalus's wife, Procris, to remind him to be faithful. He needs this firming up to resist the advances of Aurora, goddess of dawn. It's a mythological image of seduction and fidelity that Poussin, a French immigrant to Italy stunned by the classical heritage of Rome, renders both entertaining and moralistic. Yet the triviality of the tale is transcended and transformed by his sublime depiction of a blazing sky and an earth kissed by its light. This grand luminosity turns a simple scene into a history that glows with enigmatic importance.
• National Gallery, London.
Image of the week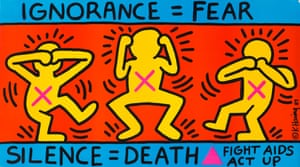 Ignorance = Fear by Keith Haring, 1989
In a career lasting barely a decade, due to his early death from Aids-related illness, New York pop artist Keith Haring used his street art as posters, protesting against apartheid, railing against religious intolerance and bigotry, homophobia and racism. This image is from his first major UK exhibition, which opened at Tate Liverpool this week. Read the review here.
What we learned
Fake Aboriginal art sellers are facing a £1.3m fine
Kiss My Genders takes a sinful walk on the wild side
Paula Rego offers a five-star world of pain
Cindy Sherman likes being difficult
The devil is in the detail with Bartolomé Bermejo
Peter Howson has revealed his painstaking painting process
Charlie Schaffer won the 2019 BP portrait award…
… even as its corporate sponsor faced fresh criticism
Salvator Mundi may be the latest masterpiece to grace a superyacht
Belgium has a new art studio-zoo dedicated to genetics
Simon Denny delves into dark things at Hobart's Mona
UK galleries have embraced black artists …
… but it's been a long time coming
The New York Times has gone off cartoons
The new Dulwich Pavilion is a zinging rainbow
You can now match the Manolo Blahnik shoe with the painting that inspired it
Hull seeks to build on the legacy of its time as UK City of Culture
Tokyo's skyscrapers might have gone down, not up
It's happening … La Sagrada Familia has planning permission
France is in two minds over Notre Dame
Bath Abbey is on a surer footing
Max Hirzel is bearing witness to migrant deaths
San Francisco's fog has its own Instagram account
Don't forget
To follow us on Twitter: @GdnArtandDesign
Sign up to the Art Weekly newsletter
In accordance with the UK's GDPR data protection laws, if you'd like to receive our regular roundup of art and design news via email, please confirm here.
RankTribe™ Black Business Directory News – Arts & Entertainment