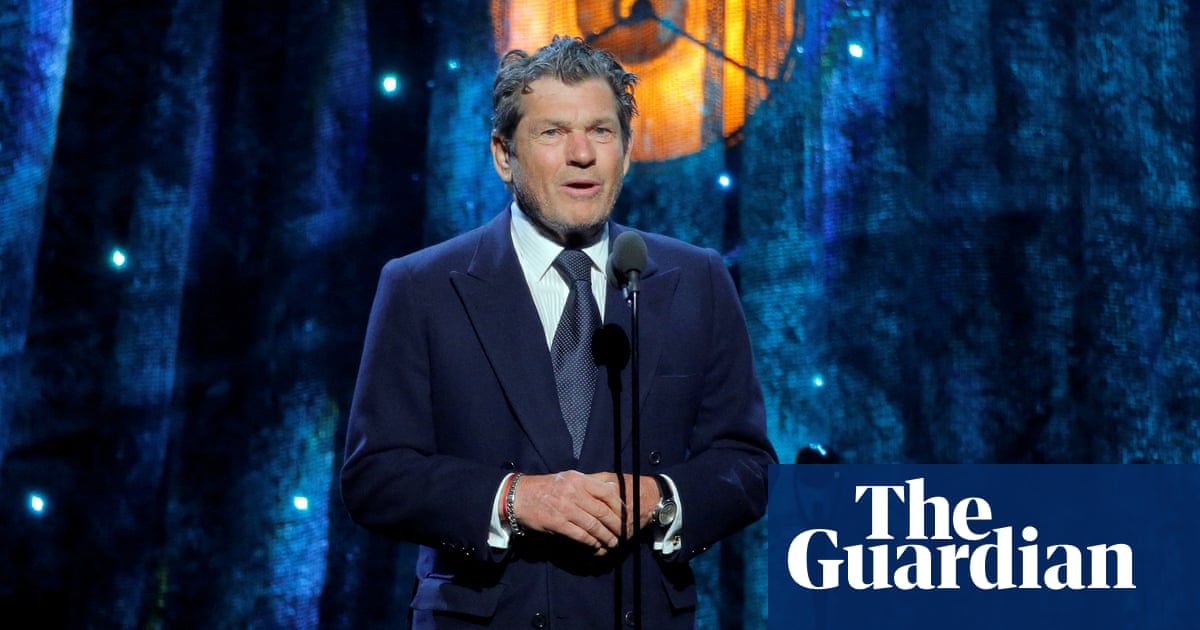 Jann Wenner, founder of Rolling Stone and a co-founder of the Rock and Roll Hall of Fame, has apologized for remarks he made disparaging Black and female artists as less intellectually articulate than their white counterparts.
The 77-year-old's statements – made in an interview published on Friday by the New York Times in which he explained why he had included only white rock performers, whom he dubbed the "philosophers of rock", in a book compiling his interviews – led to a unanimous vote removing Wenner from the hall of fame board.
Wenner's interviews in his book The Masters offered the perspectives of musicians such as Bono, Bob Dylan, Jerry Garcia, Mick Jagger, John Lennon, Bruce Springsteen and Pete Townshend – all of whom are white men.
He told the Times that the selection "was not a deliberate selection … insofar as the women, just none of them were as articulate enough on this intellectual level".
He also said that Black performers of the time were not "in the zeitgeist".
"Of Black artists – you know, Stevie Wonder, genius, right? I suppose when you use a word as broad as 'masters,' the fault is using that word," Wenner said. "Maybe Marvin Gaye, or Curtis Mayfield? I mean, they just didn't articulate at that level."
Wenner has sought to undo the resulting damage through a series of apologies over the weekend, including one through his publisher, Little, Brown and Company, in which he said: "I apologize wholeheartedly for those remarks."
He added that his choice of interviews included in the book "don't reflect my appreciation and admiration for myriad totemic, world-changing artists whose music and ideas I revere and will celebrate and promote as long as I live. I totally understand the inflammatory nature of badly chosen words and deeply apologize and accept the consequences".
Wenner founded Rolling Stone in 1967 and served as its editor or editorial director until 2019. He was inducted into the Rock and Roll Hall of Fame as a non-performer in 2004 after helping to start it in 1983.
But the organization was often seen as a closed shop excluding musicians that didn't meet a white rock criterion and a less-than-hip celebration for industry-friendly musicians and industry suits.
The chairman of the body since 2020, John Sykes, sought to change that. "Rock is a part of rock'n'roll, but rock'n'roll was never one sound," he recently told Billboard. "It was an amalgam of R&B, gospel and country."
This year's inductees include Missy Elliott, the Spinners, Willie Nelson and Rage Against the Machine. "I really didn't change the rules. I went back and followed them," Sykes said.
Sykes told the publication that before 2019, about 14% to 15% of the inductees were women. In the last five years, it has been almost 25%. "We're not there yet, but we're seeing the inductees class evolve not only in sound but genre," Sykes said.
But Wenner's comments have left a stain. Joe Hagan – who wrote Sticky Fingers, a critical but authorized biography of Wenner that caused a bitter falling-out between the author and his subject – posted a comment on X by the feminist critic Ellen Willis, who refused to write for Rolling Stone, calling it "viciously anti-woman".
Rolling Stone "habitually refers to women as chicks and treats us as chicks, ie interchangeable cute fucking machines", read Willis's comment. Willis, writing in 1970, also said that Wenner's bias against revolutionary politics fed the oppression of women.
"To me, when a bunch of snotty upper-middle-class white males start telling me politics isn't where it's at, that is simply an attempt to defend their privileges. What they want is more bread and circuses," she wrote.
In the Times interview, Wenner seemed to acknowledge he would face a backlash. He remarked: "Just for public relations sake, maybe I should have gone and found one Black and one woman artist to include here that didn't measure up to that same historical standard, just to avert this kind of criticism."
RankTribe™ Black Business Directory News – Arts & Entertainment