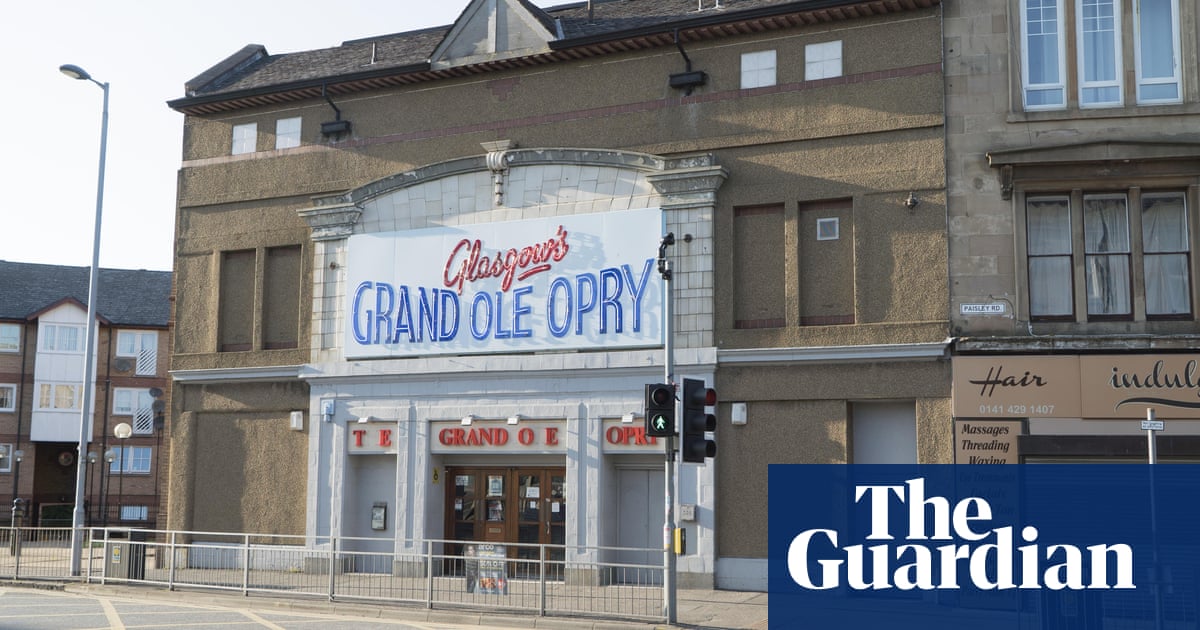 Scotland's foremost country music venue has voted narrowly to ban the use of the Confederate flag because of its "toxic" associations with slavery and white supremacy.
Members of Glasgow's Grand Ole Opry voted 50 to 48 to maintain a ban brought in by the venue's managing committee last month. The emergency general meeting on Monday evening was the culmination of a bitter internal dispute that resulted in the resignation of the committee's president two weeks ago.
The row centred around the use of the red and blue cross in a flag-folding ceremony – known as the American Trilogy and accompanied by the eponymous Elvis Presley hit – at the end of every club night.
In a statement on Tuesday, vice-president Karen McCulloch confirmed there would be "no display of the Confederate flag in any shape or form within Glasgow's Grand Ole Opry".
She added: "It has been disappointing that a hardcore of members refused to see that our club, like others, had to move with the times and stop using a flag that has come to symbolise toxic beliefs in America and elsewhere."
"We were effectively making a stand against racism and it's a huge relief that a majority of our members believed this was the right way to proceed."
The Guardian understands that in recent years, and in particular since the Black Lives Matter movement grew to global prominence in 2020, there has been increasing discomfort about the flag's associations amongst Opry members and visitors, and some bookings cancelled because of its prominence.
The National Theatre of Scotland, which scouted the Opry earlier in the year as a potential venue for a show, withdrew its interest explaining to the management that the flag is "now widely acknowledged as having racist connotations".
The bruising row continues to play out on the Opry members' social media pages, with some raising concerns about putting off black and Asian guests, others urging members to unite for the good of the club and one accusing those who reportedly ripped up membership cards at the meeting of "behaving like spoilt children".
The club, which was founded in 1974 and immediately became one of Glasgow's most popular venues, attracts committed enthusiasts who dress in authentic Western attire and line dance to live music.
With a seated capacity of 450 over three levels with two dance floors, it has also hosted gigs by the likes of Teenage Fanclub and Franz Ferdinand.
Musicians and promoters who work at the Opry describe it as a social club as much as a music venue, emphasising its inclusive approach, especially to those with disabilities.
One promotor told the Guardian: "Like a lot of people, I support the decision and hope this diffuses the situation in what is a magnificent and welcoming venue."
Bafta-winning Scottish screenwriter Nicole Taylor – whose film Wild Rose, starring Jessie Buckley as an aspiring country singer and single mother, used the Opry as a backdrop – said: "It's a place I really love – welcoming, inclusive, accessible, where hen nights jostle with the older crowd."
Taylor, who spent Saturday nights at the Opry as a teenager, says she was drawn to the genre that expressed emotion growing up in a city where people did not traditionally talk about their feelings. "There's a country song for every shade of feeling."
Paul Kerr, who writes for Americana UK covering the Scottish scene, suggests the Opry represents "an old-fashioned version of country and western, stuck in the cowboy era with replica guns and quick-draw competitions".
"Along with that goes a more middle-aged crowd who are perhaps not as aware of the changing views of the Confederate flag, particularly since Trump was elected."
"The bands who play the Opry are a very trad form of country music, Nashville and southern-oriented, and I suspect the nearly half of members who voted to keep the flag were cleaving to those traditions, rather than supporting any racist association".
The Opry is named after the venue in Nashville, Tennessee, where the Country Music Awards banned the confederate flag in 2022. Emerging stars such as Luke Combs distance themselves from that imagery and established artists including the Chicks and Lady A have changed their band names, amidst growing understanding that people of colour and LGBT+ have felt routinely excluded from the country music scene.
Kerr said: "There is a groundswell now in country music asking why there are so few black artists or people of colour in the audiences."
RankTribe™ Black Business Directory News – Arts & Entertainment